HRPersonnel with e-HRP.Net Web Access
SDMS V HRPersonnel for Windows is rich in functionality and comprehensive in scope, allowing Companies to manage all aspects of People Development effectively and at minimum cost. While addressing day to day record keeping, key administration tasks and procedures it also provides a system for ensuring compliance with today's employment frameworks.
This is now extended with e-HRP.Net Employee Self Serve Web Tools to help you save time and money. The range of HRP Self Serve Web Tools provide employee self serve for viewing and updating employee Contact Details, Skills and Qualifications, viewing and applying for Training Courses, logging their own CPD and Training Needs as well as completing Absence Forms when returning to work and submitting a Holiday Leave Request.
EasyRecruit.Net Professional: On Line Job Applications
Whether you are using SDMS V Recruitment and Selection as part our HRPersonnel system or as a standalone product employee recruitment and processing Job Applications are simplified with EasyRecruit.Net Professional: On Line Job Applications Web Tool.
The Recruitment and Selection Module of HRPersonnel provides a fully integrated  module for authorising vacancies and planning recruitment campaigns, logging initial enquires and job applications, as well as scheduling interviews and conducting applicant assessments
EasyRecruit.Net Professional: On Line Job Applications Web Tool allows job vacancies entered in the HRPersonnel "back office" to be posted immediately to your own website with the ability for potential applicants to search for the most suitable job available and to complete their applications online. The time and cost of processing job applications is therefore massively reduced as job data entered in the Windows product is immediately available on your recruitment web pages and data entered by job applicants is dynamically updated in the SDMS V HRPersonnel or SDMS V Recruitment and Selection.
Simple to Use: Easy to Implement
Each HRPersonnel Web Tool has been designed with simplicity and ease of use in mind. HRPersonnel Web Tools are easy to install and are supplied with all you need to install and make available via you own staff intranet or information portal - a simple hyperlink from your existing web site takes you to the online Job Applications Web Tool seamlessly.
Job Vacancies On Line
Within the HRPersonnel Recruitment module possible job vacancies can be identified from leavers, ending contracts, forthcoming retirements or insufficient FTE coverage.
When vacancies are authorised these can be designated as job vacancies and full job details entered and posted immediately to the Vacancies section of your website.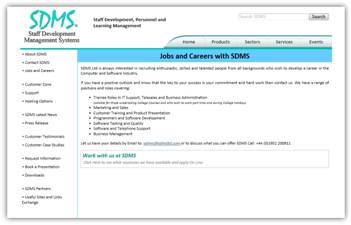 Link from Website
Information about the position is available on line, cutting out the need for requests for further information before applying. Potential candidates are provided with keyword search options enabling them to find suitable vacancies on your site.
Completing On Line Job Applications
The EasyRecruit.Net Professional: On Line Job Application can be customised by the organisation and includes full personal details, educational and job history, qualifications and personal submission. Tailor the form to your requirements and leave out sections which are not relevant.
On Line Applications can be reviewed and amended as required by the candidate up to the closing date for the submission of the On Line Application.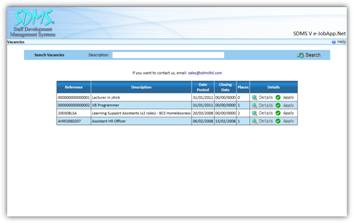 Vacancies and Jobs Posted On Line
Seamless, Dynamic, Interactive
On Line Job Applications are seamlessly and dynamically integrated between the Web function and the Windows function. When Applications are submitted via the web they dynamically appear in the Candidate database of the "back office" SDMS V HRPersonnel for Windows software abolishing manual data entry reducing the cost of finding new staff.