SDMS V HRPersonnel for Windows: e-HRP.Net Web Access
e-HRP.Net Self Service Web Access Module provides a seamless and fully dynamic intranet and web access system for SDMS V HRPersonnel for Windows. It helps you simplify and reduce the cost of many day to day administration tasks by providing easy to use browser access for employees, managers and administrators. Cut out unnecessary paper forms and the time taken to complete them, and at the same time improve communication and collaborative working with between staff.
Roles and Self-Serve Access

Whether you are an employee who needs to update a change of address or new mobile telephone number; a manager which needs to review a completed absence form before passing it to finance, or a member of the training unit who needs to process applications for external training, your role is addressed with the module.
Roles and Access
Employee Self-Serve: enables staff themselves to update particular data they "own" such as basic personal details, next of kin, skills and qualifications, proposed holiday plans and occasional leave requests or applications for training.
Line Managers Self-Serve: enables managers to access and update key employee data such as changes in addresses or next of kin, update skills and qualifications as well as approving training applications and request for holiday leave.
Administrator Self-Serve: enables personnel department or departmental staff to update staff records and process leave request and process completed absence forms
Configurable Options User Definable Access

Web Access within the module can be configured to limit what areas can be accessed and how.
You may not want staff or employees to update their contact details when they change address – in which case this can be restricted to the departmental administrator, or Line Manager. Likewise; with skills, qualifications or absence forms and holiday requests.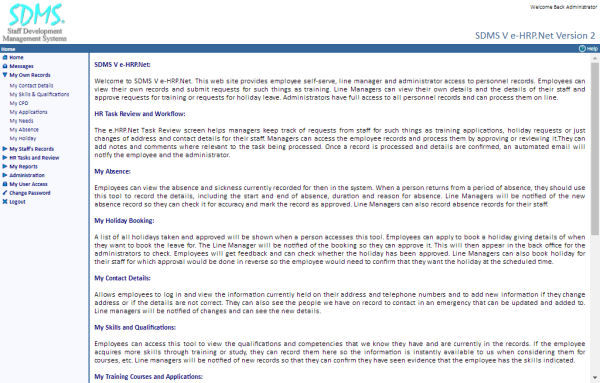 Menu Access - All Options with My Own Records
On the other hand you may want to allow staff to update these records with checking and confirmation by their manager or HR Administrator. All these options are available via the module's own system administration features.
HR Task Review and Workflow
Keeping track of requests from staff for such things as applications to go on a training course is built into the module by the HR Tasks Workflow Manager.
All web based requests from their staff are presented in a single task screen for action as well as being listed by type of web transaction such as all changes to contact details, new CPD record for request for holiday leave. Line managers simply choose the most appropriate way of accessing HR tasks that need to be dealt and when. Processing completed forms or letting them know of changes in staffs records is avoided with lower costs and reduced workload. The Line Manager Task List is a single point of access browse of all types of record that has been entered or updated by an employee that the line manager needs to process.
Managers can access the record and process it by approving a holiday booking request, a filled absence form or request to book on a course. They can add notes and comments where relevant to the task being processed. Simple and easy to use, the Line Manager will see the record as a task in their list to approve or reject.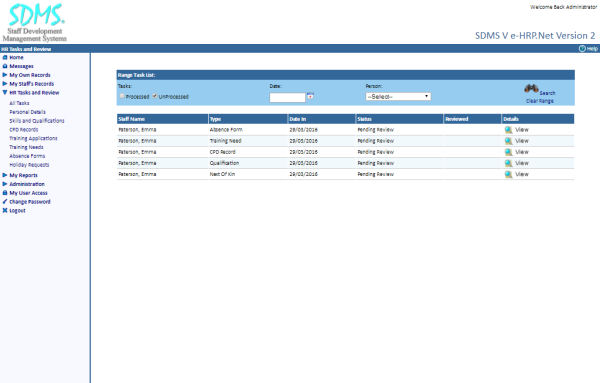 HR Task Review - All Options
Once a record is processed and details are confirmed, an automated email will notify the employee and the administrator.
HRPersonnel "Back Office"- Dynamically Updated by e-HRP.Net
The e-HRP.Net is fully integrated – seamlessly and dynamically – with SDMS V HRPersonnel for Windows. When a member of staff or a manager changes and updates information in e-HRP this appears immediately in HRPersonnel as the "back office" What has been entered or changed, who by and when are shown both on the e-HRP web page and the back office system. Similarly when new information is entered or changed in HRPersonnel as the "back office" what has been entered or changed, who by and when are shown in web page.
e-HRP.Net Elements Matrix
The e-HRP.Net Module provides:
| | | | |
| --- | --- | --- | --- |
| | Employee | Manager | Admin |
| My Contact Details | | | |
| My Skills | | | |
| My Qualifications | | | |
| My CPD | | | |
| My Applications | | | |
| My Needs | | | |
| My Absence | | | |
| My Holiday | | | |
| My Reports | | | |
| My Staff's Records | | | |
| HR Tasks and Review | | | |
| Administration | | | |
| Messaging | | | |
Messaging
The module has its own in-built messaging feature which allows managers and staff to clarify anything that may arise in the course of processing HR web tasks. An automatic email is sent telling the member of staff that they have a new message.
Sharing Information and Involving - My Reports
Making Information readily but securely available is something we are all trying to do but sometimes we don't want employees to be able to update and change data but only have to view.
The Reports Module enables personnel administrators line managers ,employees and staff to access information anytime, anywhere,from any devoce with browser accesss. Access is provided for Employee Contact Information, Skills and Qualification Profiles, Training History, Course Schedules, Training Needs, Self-Study, Training Applications, Sickness and Other Absences as well as Holidays and leave. It also provides immediate access to information for Staff and Managers without them having to request reports and information from the Personnel Administration Team which can take days to receive, reducing the burden on the Training Team.
All reports within the Reports Module have 4 Standard Exports Available:
Printable Page
CSV Output (Excel)
Word Output
HTML Output
The Export buttons are shown at the bottom of every report and will export any of the information currently shown in that report on screen.
On Line Absence Forms: An Example
Employees can view their current Sickness and Other Absence records simply and easily, showing dates and absence reasons. It provides staff with an immediate view of all their absences, whether sickness or other forms of absence and reason. For new absences, Line Managers can view this for all their staff. An Absence Form can be completed on return to work setting out dates and times of absence, sickness type and absence reason. Personnel Administrators and Line Managers are notified by email. They can review it, add notes and pass for processing for sick pay etc. Where this is not something that you wish to provide web access to employees for, then line managers or administrators can complete them.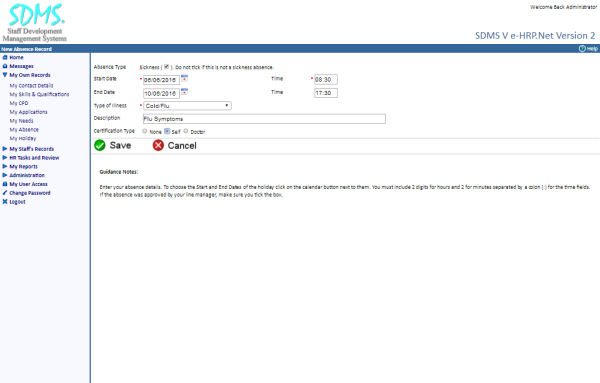 On Line Absence Form
On Line Leave Requests: An Example
An easy to view screen shows dates for all leave requests and status - whether approved, subject to approval and those holidays already taken. Entitlement for the current year shows standard leave entitlement, bank holidays together with TOIL and holiday entitlement carried forward. The member of staff can complete holiday leave requests On Line, entering dates and times and any reason for request, if relevant. The member of staff can also request that leave be booked against standard, bank, TOIL or carried over entitlement.

Information and to Purchase:
Contact SDMS Ltd's Sales and Business Development Team on 01952-200911 or by email: sales@sdmsltd.com or alternatively visit the SDMS website: www.sdmsltd.com.