SDMS V Staff Development for Windows: e-SD.Net Self Service Web Access
The e-SD.Net Web Access module provides a seamless and fully dynamic intranet and Web Access System for SDMS V Staff Development and Learning Management for Windows. Designed for the smaller business who want to reap the benefits of supporting employee training and learning with On Line Access e-SD.Net provides a simple and cost effective web solution: simple and easy to use and simple and easy to implement.
Benefits
e-SD.Net helps you simplify and reduce the cost of training course applications by providing browser access for employees, Managers and Administrators.
Employee Self Serve: enables staff to update training needs, CPD and Self-study, view courses on line and apply to go on internal or external courses as well as complete training evaluations.
Line Manager Self-Serve: enables managers to access and update key employee data such as training needs and CPD Records as well as nominating or approving training applications by their own staff.
Administrator Self-Serve: enables personnel department or departmental staff to update staff training records and process applications for training and development.
Employees and trainers can complete standard evaluation forms on line providing invaluable feedback on training quality. It will cut out unnecessary paper forms and the time taken to complete them, and at the same time improves communication and collaborative working between staff. It also provides employees and managers with an easy to use means of logging and updating training needs so that training provided can be better targeted. Extending the bounds of traditional training models staff can log their own CPD or Self-study providing a complete picture of employee training in a single system.
Options: Employee, Manager, Administrator

Whether you are an employee who needs to update your own training needs or CPD record; a manager who needs to approve applications for training before passing them to the central training department or a member of the training unit itself who needs to process applications for external training, your role is addressed with e-SD.Net. With its user definable and configurable access levels you can switch on or off what you need at that time. It can be configured to limit what areas can be accessed and how. You may not want staff or employees to update their own training needs – in which case this can be restricted to the departmental administrator, or Line Manager or switched off altogether. Likewise applications for training may be reserved for the central training unit with no "gatekeeper" access for On Line Approval by Line Managers.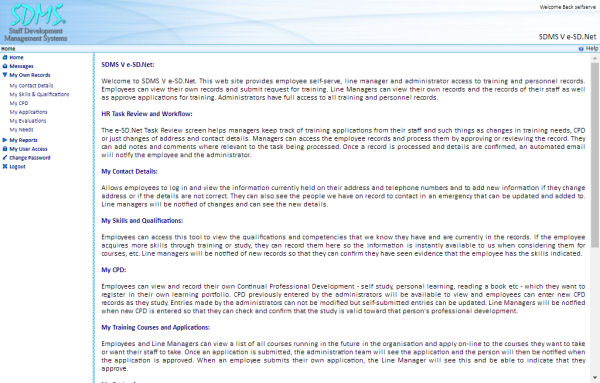 Menu Access - All Options
On the other hand, you may want to allow staff to update these records with checking and confirmation by their Manager or HR Administrator. All these options are available via the module's own system administration features. And in addition, the module has its own in-built messaging feature which allows managers and staff to clarify anything that may arise in the course of processing HR web tasks. An automatic email is sent telling the member of staff that they have a new message.
HR Task Review and Workflow
Keeping track of requests from staff for such things as applications to go on a training course is built into the module by the HR Tasks Workflow Manager.
All web based requests from their staff are presented in a single task screen for action as well as being listed by type of web transaction such as all changes to training needs, new CPD record or application for training. Line managers simply choose the most appropriate way of accessing HR tasks that need to be dealt with and when. The Line Manager Task List is a single point of access to browse of all types of records that have been entered or updated by an employee that the line manager may need to review or process.
Managers can access the record and process it by approving a training application, an updated CPD record or training need. They can add notes and comments where relevant to the task being processed. Simple and easy to use, the line manager will see the record as a task in their list to approve or review.
Once a record is processed and details are confirmed, an automated email will notify the employee and the administrator.
Staff Development "Back Office" - Dynamically Updated by e-SD.Net
e-SD.Net is fully integrated – seamlessly and dynamically – with SDMS V Staff Development and Learning Management for Windows. When a member of staff or a manager changes and updates information in e-SD.Net, this appears immediately in Staff Development as the "back office". What has been entered or changed, who by and when are shown both on the e-SD.Net web page and the back office system. Similarly, when new information is entered or changed in Staff Development as the "back office" what has been entered or changed, who by and when are shown in the web page.
e-SD.Net Function Matrix:
| | Employee | Manager | Admin |
| --- | --- | --- | --- |
| My Contact Details | | | |
| My Skills and Qualifications | | | |
| My CPD | | | |
| My Applications | | | |
| My My Evaluations | | | |
| My Needs | | | |
| My Reports | | | |
| My Staff's Records | | | |
| HR Tasks and Review | | | |
| Administration | | | |
| Messages | | | |
Sharing Information and Involving - My Reports
Making Information readily but securely available is something we are all trying to do but sometimes we don't want employees to be able to update and change data but only have to view.
The Reports Module enables the training administrator to make information available to Staff and Managers anytime, anywhere. Access is provided for Employee Contact Information, Skills and Qualification Profiles, Training History, Course Schedules, Training Needs, Self-Study and Training Evaluations. It also provides immediate access to information for Staff and Managers without them having to request reports and information from the Training Administration Team which can take days to receive, reducing the burden on the Training Team.
All reports within the Reports Module have 4 Standard Exports Available:
Printable Page
CSV Output (Excel)
Word Output
HTML Output
The Export buttons are shown at the bottom of every report and will export any of the information currently shown in that report on screen.
Training Record and Application Process: An Example
It provides staff with an immediate view of all their training to date and courses applied for, showing title, subject, dates, and whether completed or approved. Line Managers can view training records for all their staff as well. When employees apply for training they can view any training courses organised and entered in SDMS V Staff Development showing course title, start and end dates, subject and skill area and further course details (this includes scope of the training course, programme, aims and objectives together with trainer, venue and course fee). Employees can submit training applications on line with approval by managers or training coordinators and the employee notified of the result.
Managers can also add notes or comments when approving or rejecting training course applications. Employees and Administrators are notified of the manager's approval by email.
e-Training for Web and Intranet Access

For larger organisations with more extensive requirements, SDMS V e-Training Enterprise Edition is available, providing fully interactive and secure web access for: employee training self-serve; line manager access for course administration; on line needs analysis, course evaluation, appraisal and web based reporting.
Information and to Purchase:
Contact SDMS Ltd's Sales and Business Development Team on 01952-200911 or by email:

sales@sdmsltd.com.