Recruiting the Best for Success
In the highly competitive marketplaces of today, recruiting and keeping the right staff to support the mission of your organisation has never been harder. Whether you are in the public sector, large or small private concern, recruiting new staff is time consuming and costly. SDMS V Recruitment and Selection for Windows provides a comprehensive system for administering all aspects of Employee Recruitment and Selection helping you achieve better recruitment and retention success rates as well as streamlining your recruitment process.
The Complete Employee Recruitment and Selection Cycle:
With SDMS V Recruitment and Selection for Windows managing Employee Recruitment and Selection has never been easier. It reduces the administrative costs and delays often associated with recruitment, allowing you more time to ensure that the best recruitment decisions are made and the right employees stay with you longer! Recruitment Administration Checklists, Reminders and Alarms, Quick Administrators and Business Rules built into the software ensuring that deadlines and tasks are never forgotten, thus reducing the time and costs of recruiting.
Manage Recruitment Campaigns
SDMS V Recruitment and Selection for Windows provides tangible and measurable benefits, whether you are a specialist Recruitment Manager in a large organisation, a Personnel Manager, Training Manager with recruitment as one part of your brief or a Graduate Recruiter.
From the identification of Recruitment Needs (based on employee retirement dates, temporary and fixed term post dates, planned maternity and other extended leave dates) creating New Posts, Campaign Planning, Advertising, Initial Enquiry management, Candidate Selection to Short Listing, Interviewing and Assessment, taking up References and Pre-employment Checks, as well as Final Appointment, SDMS V Recruitment and Selection for Windows does it all! For the many standard letter writing and office tasks, SDMS V Recruitment and Selection Manager for Windows is integrated with a range of Office Suites, including MS Office™ for the production of standard letters, mail merge and spreadsheets.
Minimum Data - Fully Integrated
At each stage in the recruitment process, the software only holds the data essential for each candidate at that point, thus significantly reducing data collection and cost. Further data is then built up as required as the recruitment process continues and the appointment decision is reached. Whether you need to manage a simple recruitment process or a complex employee selection process with detailed reporting and analysis requirements; SDMS V Recruitment and Selection for Windows is the obvious choice.
Candidate Details
The Candidate Details held include: Candidate Reference, Name, Address, Post Code, Gender, Equal Opportunities Data, Current Employment and Salary, Notice Required, Educational History and Qualifications, Employment History, Positions Held, Training and Special Achievements. Supporting statements can also be scanned and held. Where candidate selection and interviewing is the responsibility of a single person, the software is simple and easy to use. But where required, the interview panel management functions of the software are available, helping you keep track of key tasks and dates including: assigning relevant staff to interview panels, set out diary of interviews and panel meetings, schedule interview panel tasks, arrange interview schedules and candidate lists; with links to reminders and alarms within the software, identify and search for suitable internal candidates by matching vacant or soon to be vacant posts by skills and competencies, qualifications, types of post held, relevant training and staff development, and personal qualities. A unique feature of the software is the Candidate Monitoring Form, which allows for recruitment monitoring to take place, even if full details of Candidates and the recruitment process itself are not held.
Candidate Equal Opportunities Monitoring Data
The HRPersonnel Recruitment and Selection Module provides extensive equal opportunities data that can be gathered during the recruitment and selection process. This is in addition to the equal opportunities information in the Core system and reflects the increasing demands on compliance imposed by law and HR best practice. In summary this includes:
Notes field to the gender and transgender data form in the Employee Record
A gender and transgender form to the Candidate form of the Recruitment Module
Pregnancy and Maternity data
Former Name of the applicant on the Main Candidate Form
Marital Status: Marriage and Civil Partnership
More than one reason for applying for the job
Further candidate data to address Eligibility to Work in UK
Notes on Restrictions for Working in UK
Extended Data on Disability

Candidates Relationship to employed or related to members
Candidate Availability: When Can You Work
Unique to this Module and reflecting the need to recruit part time, casual and bank staff as well as part time teachers in the education sector the Candidate Details Form includes the ability to record when the candidate is available and not available for work (in terms of days of week and session) as well as periods and times of the year when they might not be available. This includes:
Candidate Availability record as part of the Candidate Details allows a record of dates and sessions (AM, PM etc.) the candidate is available to work.
Non Availability showing periods when the candidate is not available

A notes field on the Availability Form to clarify availability and non availability.

Report: Candidate Availability Summary
Report: Candidate Availability Notes
Report: Candidates Available by Date and Session
Diary and Reminders
Keep track of all the important dates during the recruitment process via the Diary and Reminders features of SDMS: Application Closing Date, New Employee Start Date, Interview(s) Dates, Panel Meeting(s) Dates, Application Acknowledgement Date, Invitation to Interview Date, Reference Take Up Date, Pre-employment Check Dates, Confirmation of Appointment Date, Contract and Employment Statement Date.
Agencies
Maintain a record of all Agencies and Publications used. Data held includes: Name and Address of Recruitment Agencies, Contractual Terms and Rates, Telephone Numbers, Fax and E-mail for all Key Contacts, Successful Recruitment Sources, Failed Recruitment Campaigns, Costs and Full Contact Manager Information.
EasyRecruit.Net Professional: On Line Job Applications
EasyRecruit.Net Professional: On Line Job Applications Web Tool allows job vacancies entered in the HRPersonnel "back office" to be posted immediately to your own website with the ability for potential applicants to search for the most suitable job available and to complete their applications online. The time and cost of processing job applications is therefore massively reduced as job data entered in the Windows product is immediately available on your recruitment web pages and data entered by job applicants is dynamically updated in the SDMS V HRPersonnel.
(The Recruitment and Selection Module of HRPersonnel provides a fully integrated module for authorising vacancies and planning recruitment campaigns, logging initial enquires and job applications, as well as scheduling interviews and conducting applicant assessments)
For more details see EasyRecruit.Net Professional Webpage
Standard and Ad Hoc Reporting
The software comes with easy to use and flexible Standard Reports. The comprehensive range of standard reports provided gives detailed analysis of the recruitment and selection process as well as practical day-to-day listings and schedules, vacant posts, vacancy recruitment schedule, panel memberships by post and campaign, equal opportunities, shortlists, recruitment costs, and interview clash lists. Each standard report may be customised with easy to use report customisation screens. In addition, SDMS Report Writer: Crystal Reports™ is an optional module for the Recruitment and Selection software allowing the user to design and write their own reports.
Audit Trail Module - Industry Standard
The Audit Trail Module provides the ability to track all changes to the data entered in SDMS Software - when the change was made and by whom, thereby providing compliance with industry standards for data management with full traceability, accountability and security. This module uses the latest in Pervasive Database Technology – AuditMaster™.
Special Editions
Special Editions are available for Companies, FE Colleges, Social Service Departments, Probation Services, LEAs and Universities ensuring that the unique recruitment approaches are supported.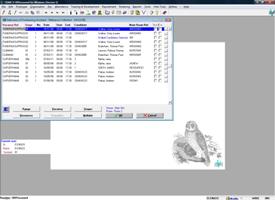 Interview Recording in Recuitment and Selection