eFront Classroom and Face-to-Face Training Management
The SDMS eFront Face-to-Face Training Course Module provides a fully integrated module within eFront for the recording and administration of classroom and face to face training courses and events, complementing and extending eFront to deliver a range of blended learning options. The eFront Classroom and Face to Training Course Module is now available for both eFront Enterprise and Educational e-Learning Editions.
The Module is designed to enable Training Managers and Administrators to plan and deliver face-to-face and classroom training courses and address the day to day operational tasks of training administration. With eFronts e-Learning course features, it allows you to deliver all forms of training from traditional classroom based courses, through conferences, team development, on the job workplace training, workshops to e-Learning courses, providing a total blended training management system.
Function Matrix
The face to face training module allows you to:

Data is collected at the proposal, planning, applications, and approval or nomination stages.
Training Course Planner
Course planning and scheduling, course advertising, enrolments and attendance are all supported.  If required, qualifications and competencies resulting from successful participation in the course can be held, together with provider and trainer details.
Administrators and Line Managers can plan all types of face to face training courses by recording a unique course reference, course title, training area and specific subject, whether planned or scheduled, the course type (classroom, workplace, conference etc.) and level. Who the course organiser is with contact details, and who the provider is, can be held against the course together with the course fee to be charged. The maximum number of delegates for the course when scheduled can be set as well as the standard default start and end times.

Rules for enrolment and applications can be set at the global course design stage such as making applications subject to Line Manager approval or auto-enrolment if places are available. What to do if places are full can also be set by default and waiting lists set up.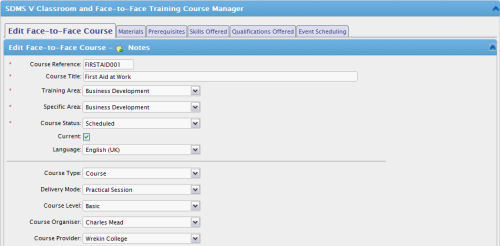 Fig 1: Course Planner Screen
Easy view screens present the essential course simply and easily in a single view showing course reference, title, training area and specific subject, and whether it's planned or scheduled with last and next dates. Further information about Face-to-Face courses can be accessed from the course browse - users can activate and de-activate them, and edit further details about the courses. New courses can be added simply.
Course Materials, Skills and Qualifications
The training course planner allows the skills and qualifications, which will be achieved if the delegate successfully completes the course, to be selected and assigned to each course. Course materials such as Word documents, PowerPoint's, Excel Worksheets or PDFs can also be assigned and attached to the course with upload, download and launch facilities.
Course Prerequisites
Are employees or delegates suitably qualified to make best possible use of the course? How do we make sure this this is taken into account in our day to day course administration? The module allows course planners and Line Managers to set prerequisites for each course.
These include setting out what skills and qualifications are required and the assessment score or qualification grade which must be achieved for the employee to be enrolled on the course. Similarly, having attended a previous classroom course or module or an e-Learning course, it can be set as prerequisites for course approval or application.
The training course planner allows the skills and qualifications, which will be achieved if the delegate successfully completes the course, to be selected and assigned to each course.

Fig 2: Pre-requisites for Skills, Qualifications, Courses and e-Learning
The course completion function automatically assigns any skill or qualification set against the training event to the employee or course delegate, or alternatively, allows the course administrator to select which skill or qualification the learner has achieved through the course assessment methods.
Scheduling Training Events
Having planned and designed the course, administrators can now schedule events for it. Multiple events can be scheduled for each course allowing many training sessions to be held. Start date and time together with finish date and time can be set together with the course closing date for applications and approvals. The trainer, venue and rooms required can also be logged. Relevant features of the course set in the course planner are inherited to each event with the option to edit and change such as: course organiser, course fee and currency, maximum delegates and default start and end times.
Details about the scope of the event (a general text description) together with course aims, learning objectives and programme or agenda can be entered for each event. Associated course materials can be linked to the training event.
When scheduling events, the user is warned when the events are scheduled for the same date and time and also when trainers and rooms are booked for the same date and time as well as delegates - the system however allows the user to override the warning and proceed to "double" book a venue or room.
The scheduling view allows the user to see at a glance when the course event has been or will be delivered, who the main trainer is and where the course is going to be delivered.  Each of the events can be edited or deleted using the Action buttons simply and easily to fit business requirements.
Training Rooms and Resources
Training resources such as white boards, flipcharts, LCDs etc. can be booked for each scheduled training event. Resources  can be selected for each course on an ad hoc basis or assigned to particular rooms and automatically booked against a course when the room is booked.
The layout and seating style - round circle, small groups, boardroom style, lecture theatre style – can be defined against rooms with graphical images.
Enrolments and Attendance
Employees can be enrolled on training events either directly by course administrators, as a result of the employee applying directly, or subject to Line Manager approval. The enrolment process logs the name of the employee, whether they are accepted or assigned to a waiting list, accepted for the course, the reason for approval and the date of application.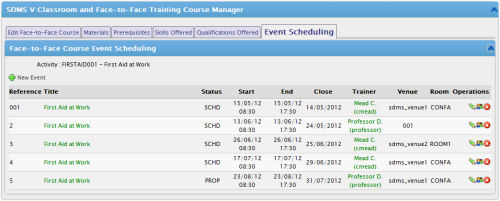 Fig 3: Training Event Scheduling
If the course has set prescribed prerequisites, then these will be applied to the applications. If particular skills, qualifications and previous training are mandatory then the application or nomination by Line Manager will be rejected and the reasons given as to why. Course pre-requisites can be overridden by the administrator and reasons for the override given.
Records of who attended the training event are maintained, whether the delegated cancelled and if so, the cancellation date. Course completion can also be recorded.
Face to Face Training Courses Directory
Employees and eFront users with Student Level Access are provided with a view and browse of all classroom courses on offer immediately within their Dashboard. 
Student Level Access and Course Applications
Anyone with Student Level Access within eFront – e Learning is able to view:

This is of course in addition to the profile of e-Learning courses undertaken and in progress in the Dashboard. Subject to the business rules set in the course planner, applications can be direct from the student to the course administrator, via the employee's Line Manager as "approval" gatekeeper or subject to confirmation of course fee payment. Where the course sets prerequisites, these will of course apply to any application whether direct or via the Line Manager.

Fig 4: Employee and Student Applications for Training
Administrator and Line Manager Access
Administrators and Line Managers have access to all functions in the Classroom Training Module of eFront: planning and designing courses, scheduling and booking rooms and resources as well as enrolling staff on them. In addtion, Line Managers can set up courses for their own departments, team or branches only with such courses not available to staff of other teams. Line Managers can view and update records for staff and users assigned to them such as skills and qualifications are are notified of approval requests for applications to go on training by members of their staff.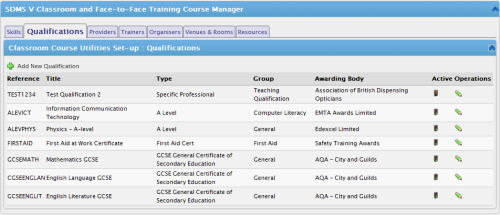 Fig 5: Modelling and Organisation Set Up
Training Providers
Classroom and face to face training courses can be in-house or delivered by external providers. The training provider record holds provider reference, name and contact details and allows providers to be grouped by type: private trainers, colleges, universities and employer organisations.
Employee Records: Skills, Qualifications and Training Profile
Classroom training records are maintained for all employees and automatically updated as they apply for and attend training events.  Non‑attendance, cancellations, whether referred to a waiting list or not, can all be recorded together with the skills and qualifications gained by attending courses. A profile of competencies and qualifications is automatically maintained for all employees on course completion.
Reporting, Emails and Templates
The Module includes extensive standard reports designed to meet the day to day needs of trainers and training administrators. They cover all aspects of classroom training:  training profiles by employee or department or type of training, course schedules for next week/month, courses by provider, staff training history, planned and actual training courses by training subject as well as overall training profile combining face to face training and e-Learning. Reports can be customised by the user and output to HTML, PDF and CSV. The eFront User Report Generator can be used with classroom training data. In addition, a range of email templates for delegate approval, rejection letters, joining instructions, course registers supporting training administration are also provided.
Modelling and Set Up: Configuration Rule and Utilities
No two organisations administer classroom training in exactly the same way. And so the system is provided with an extensive set of utilities, business rules and set-up features to help model the system to how you like to work. System administrator access allows standard drop down codes such as training areas, course types, qualifications, resources to be added and for defaults set-ups and default course application processing rules to be configured etc. Access is also provided to set up and edit email templates for automatic email notifications that are sent out and triggered for a wide range of events including Enrolment Approval, Rejection and Enrolment Reminders etc.
eFront - e-Learning at Its Best
eFront is an multi award winning e-Learning platform which provides all the features required by learners and students, trainers and tutors, administrators and line managers to use, develop and deploy e-Learning strategies in a corporate environment.
For Information and to Purchase:
SDMS Ltd is a partner for eFront e-Learning in the UK. To see the module in action or arrange an On Line Demonstration contact SDMS Ltd's Sales and Business Development Team on +44 (0)1952 200911 or by email:
sales@sdmsltd.com
, or alternatively, visit the SDMS website:
www.sdmsltd.com.
eFront is the registered Trademark of Epignosis Ltd. Visit eFront at
http://www.efrontlearning.net/
.